Introducing Commercial Access
10 April 2018
Over the years, many non-academic organisations have approached us asking how they too could get involved with the CfP community and recruit people for their market research trials. We have selectively introduced some of these companies to our platform, but today, we are changing that whole dynamic.
We are launching Commercial Access - a new tiered product built for commercial companies, charities, NGOs and non-academic research teams. The new product offers exactly the same great benefits that our academic users enjoy and come in three packages - Solo, Team, and Enterprise. Commercial studies are highlighted on our site to make sure participants know whether they are taking part in academic or commercial research.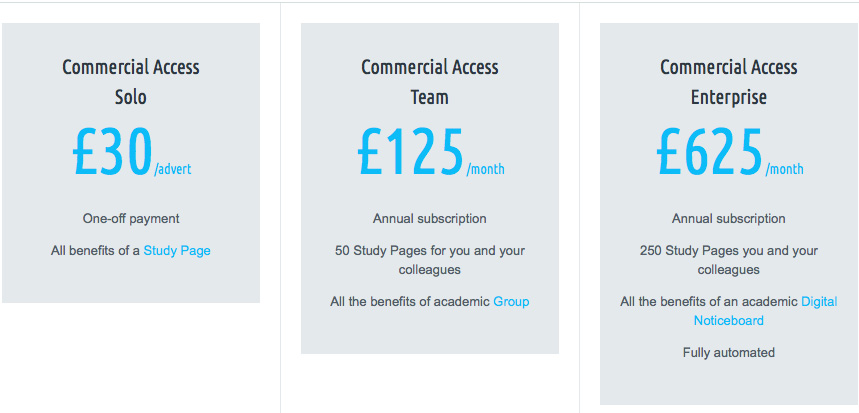 Commercial Access pricing structure comparison
Solo
Commercial Access Solo package offers a single Study Page - an advert on our site for 1 research study that you are conducting and want to recruit participants for. Commercial Access Solo comes as a one-off payment at £30 per advert.
Team
Commercial Access Team package offers 50 Study Pages to members of your choosing. Simply add members to your team and they can create adverts on our site. The Team package is an annual subscription of £125 per month.
Enterprise
Commercial Access Team package offers 250 Study Pages and is fully automated. Anyone with your company email address can sign up and list an advert. The Enterprise package is an annual subscription of £625 per month.